Работает по довольно простому принципу, видит белую выдает 0 на аналоговом выходе, если видит черную на аналоговом выдает 1 т.е. 5 вольт. Для детекции работы требуется всего лишь подключить на аналоговый выход терминала.
---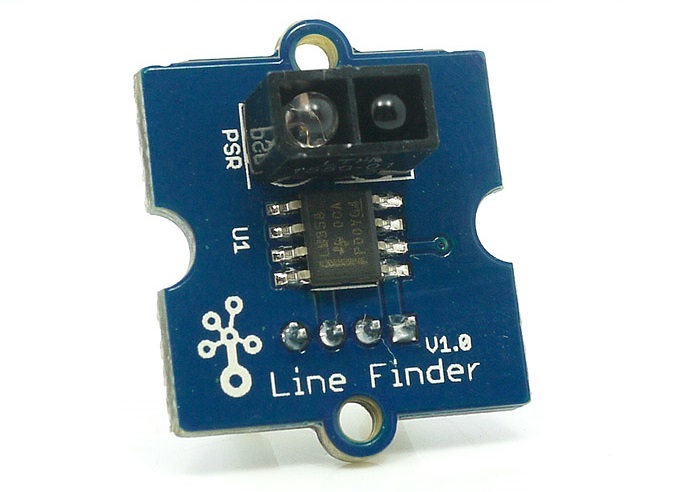 Grove-Line finder is designed for line-following robot. It has an IR emitting LED and an IR sensitive phototransistor. It can output digital signal to a microcontroller so that the robot can follow a black line on white background, or vice versa.
Модуль трекера черно-белой линии для робота. Модуль состоит из двух частей – ИК светодиода и фототранзистора ИК диапазона. Он может выводить цифровой сигнал на микроконтроллер, так что робот может следовать четко по черной линии на белом фоне, или наоборот.
Поисковые теги: line finder, center finder, bell system, connections museum, centerline, robotics, wire tracker, tools, programming, coding, tutorials, activity, sensors, woodworking, diy, tetrix, activities, controllers, robobench, homemade tools, center, finder, continuity checking, robots, cable tester line finder, cable tester, centre finder, line, computer vision, vintage telephony, telephone, innovation (quotation subject), engineering (industry), liebherr group (business operation), crane (product category), strowger, construction (industry), sprinklers, fixing sprinkler heads, line reader software, sprinkler repairs, fixing a damaged sprinkler, stuck open sprinkler valve, broken sprinkler valve, power grep line finder software, london, leo siemann, jongkwan lee, jinyoung moon, korea electric power corporation, bis 2017, british invention show, sprinkler line finder tool, sprinkler line finder, water, irrigation, repair, irrigation controls, fixing irrigation lines, irrigation repairs, sprinkler, autonomous car, how to find a sprinkler line, how to find a busted sprinkler valve, finding broken sprinkler lines, fixing sprinkler heads rainbird, hunter sprinkler repairs, fixing rainbird sprinklers, jig, homemade, fast, greatest, center finder jig, center marking jig, marking gauge, center finding jig, best, build, woodwork, screencast, wood, workbench, innovation, pencil, how to make a center finding jig, center finder jig how to, woodcraft, vim, cable, opencv, dial tone, woodworking tool creation, centre, finding center, telephone switching, centering jig, it, center marker, fzf, marking center, text editor, science, sonyalpha, photography, camera, ilce, tutorial, tips, howto, alpha, sony, astro grep line finder software, astro grep software, line findersoftware, wordsercher, codehacker, hacker, techniques, education, home improvement, step-by-step, stud detectors, stud finder, linefollower, arduino, custom, a6300, monitor, learn, evf, eye-detect, a7rii, live-view, led tv backlight tester, new led tester, find centre of rod, round bar centre finder, line following, drill centre of round bar, drill centre finder, drill centre of round pipe, ultimate handyman, line follower, builds, stem, tetrix max, making jewelry, technology, coders, programmers, round bar center finder, very simple centre line finder, automotive short&open circuit finder, how to, telephone wire tracker, network cable tester line finder, voltage test socket detector, socket tester, #technoad, ijv cannulation, foolproof centre finder, very quick and very accurate centre line finder, centre jig, centre line, cvp, east riding college, prizm, cool tools, deformity, orthopedic, orthopedic surgery repair, measurement tool, acetabulcar index, vca angle of lequensne, leg length discrepancy tool, orthopedic tool, sircle tool, doctor, orthocrat, x-ray, traumacad, orthopaedic ruler, templating, cup, center of rotation, rj45 cable tester, elegiant rj11 rj45, rj11 cable tester, bside fwt81, hicken65, networking tools, crawler crane, elegiant rj11 rj45 cable tester line finder, surgery planning, limb alignment analysis, digital imaging, pacs, pediatric, dicom, measure orthopedic, ruler tool, tetrix robot, tetrix tips, demonstration, build a better bot, line finder sensor, robot sensor tips, robot sensors, locator, rd8000, panel, retro tech, telephone museum, radiodetection, and, rd7000, robot sensor how to, tetrix robotics, panel switch, museum of communications, step by step, instructions, line finders, building systems, curriculum, prime, hands-on robotics, robotics education, robotics compeition, at&t, bell labs, western electric, how to play billiards, how to improve billiards game, patmax, vision tool, visionpro, vision software, machine vision, lenny the phone guy, 2d machine vision, sxs switch, center tool, electromechanical switch, baustelle, homemade projects, diy tools, dial system, woodworking ideas, pc vision, identification, анти, многофункциональный, telephone line tester, telecommunications, metalsmithing, jewelry artist, checker, rotary dial, measurement, verification, location, gauging, step-by-step switching, blob, kran, raupenkran, draw shot, long follow shot, follow shot, jump shot strike zones, learn the t line, league play, cue tip, short jump, jump the cue ball, avoid a cue ball scratch, snooker, position play in pool and billiards, learn the jump shot in billiards, learn the jump shot with a clear cue ball, break ball clusters in pool, billiards championship, carrom shot angles, merkur.et lego, merkur et, lego merkur, telephone line test, wire tracker meterk rj11 rj45 line finder handheld cable tester, old telephone switching system, merkur, fidget spiner, dallas 8 ball league, training cue ball, basin billiards, lego, technic, mindstorms, jewelry tools